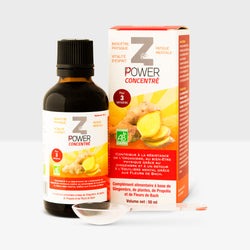 Laboratoire Mint-e
Z-Power Concentrate
Ginger-based dietary supplement, herbal, of Propolis and Bach Flowers.
Eases the return of vitality and a better resistance of the organism.
Without side effects.
Physical well-being.
Vitality of mind.
Advice for use
Ingredients
Plant glycerin*, Alcohol** ; Agave syrup* (Agave Tequilana) ; Ginger rhizome extract* (Zingiber officinale); Hibiscus flower extract* (Hibiscus sabdariffa) ; extract of the aerial part Roman chamomile* (Chamaemelum nobile); extract of cinnamon bark* (Cinnamomum zeylanicum); extract of juniper leaf* (Juniperus communis); Propolis*; Bach flowers: Hornbeam* (Hornbean), Oak* (Oak), Olive* (Olive).
* Ingredients from organic farming
** processed from organic ingredients
100% of the total ingredients are of natural origin
37.6% of the total ingredients are obtained according to the rules of organic farming