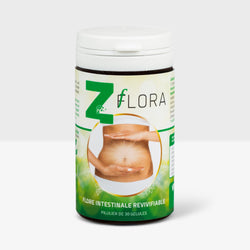 Laboratoire Mint-e
Z-Flora (60 capsules)
COMPLEMENTARY ZPARASIT

98% of probiotics do not develop because they do not have the fertilizers made by lactic ferments that will allow them to establish themselves durably.
SYMBOTICS MADE OF LACTIC FERMENTS, PREBIOTIQUES AND PROBIOTIQUES.
Flora is a revolutionary formula made of prebiotics (inulin), lactic ferments (to facilitate the fermentation of the alimentary bolus) and natural probiotics revivable in the intestine (thanks to the work of the ferments facilitating their implantation).
Eases digestion, contributes to digestive comfort, promotes good intestinal transit and helps limit digestive discomfort such as bloating thanks to Black Caraway.
USE :
Preventive: a cure of 2 capsules per day for 30 days.
For healing: to be taken until the change is achieved.
INGREDIENTS:
Fermented Cabbage: source of 689 naturally occurring lactic ferments and probiotics
Black Caraway : Balloons : prebiotic : prebiotic : prebiotic : positive effect on the intestine : floral elixirs: cleansing, assimilation